Guest Houses Vacation Rentals
Starting at $429 Nightly!
*starting at rates are early summer weekday dates and do NOT include park admission.
Enjoy a home away from home! Relax in our comfortable 4-bedroom, 2-bathroom Guest Houses, nestled in a picturesque wooded area.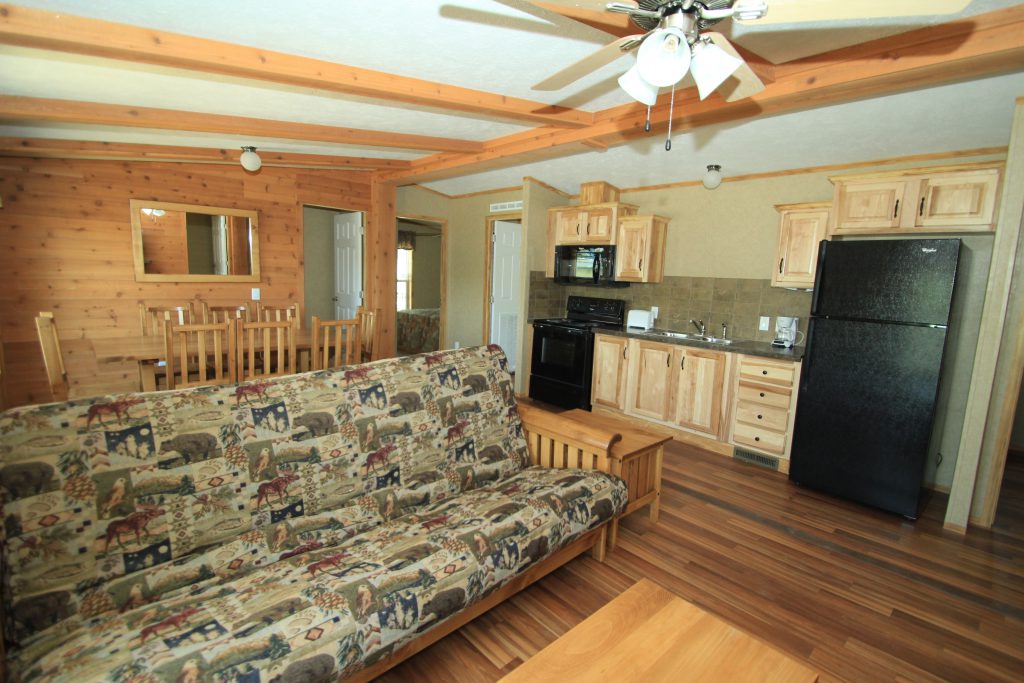 Enjoy all the comforts of home in a four-bedroom rental house! (3) night minimum stay required on most weekends; (2)-night minimum stays during the week; check-in days are limited to arrivals on: Fridays, Mondays, and Wednesdays; (2-night stays on Fall Weekends). Park Admission Sold Separately!
Read More
Find your preferred house location! Houses are located #810 – #812; and #820-#822. Requests for specific house numbers are not guaranteed, and are based on availability. Guest House preferences can be made by placing a note in the "Special Requests" field when booking online. Due to limited availability, all site allocations may change due to group bookings or length of stay patterns.
Special Guest House Features
Comforts of Home
Guest Houses feature all the furniture and accessories you'd expect staying in someone's home. We provide a dining table, sofa, TV, kitchen, beds, washer/dryer, and so much more. (*NOTE: for the 2022 Season Guests must supply all of their own linens, towels, toiletries, pots, pans, dishes, cookware, and table settings)
Free Parking
Get free parking for the duration of your stay! Park near your unit when you arrive and just leave your car there – you'll be within walking distance to all our rides and attractions so you won't need to move the car and find another spot.
Campfire Rings
Every Guest House has its own individual campfire ring for an authentic camping experience. Roast some marshmallows over the open flames, sing some family tunes, or tell ghost stories in the glow of the night. If you don't want to cook your hot dogs over the campfire, your Guest House also comes with a hard-line proprane gas grill and picnic table.
Pets Welcome!
Bring your furry friend on vacation with you for a howling good time! After making your reservation, call our vacation planners at 585-599-2211 and ask to add your household pet to your reservation. See our Pet Policies for complete guidelines and applicable fees.
Guest House Amenities
All of our guest house rentals offer great perks to help make your stay more comfortable and exciting.
Enjoy scenic wooded strolls
Spacious bedrooms and living rooms
For the 2022 Season: Guests must provide all of their own pots, pans, dishes, cookware, table settings, linens, towels, and toiletries. Be sure to check out our suggested packing list to ensure you don't forget anything!
Check-In: 4:00 p.m.
Be sure to use our NEW mobile check-in app for expedient entry! Just enter in all registered Guest's names, be paid in full, and have your mobile phone ready at the entrance.
Check-Out: 11:00 a.m.
We hope to see you again soon! Just click check-out on the mobile app, and proceed out the exit!
Advertised rates based on 2022 early summer season stay per night, does not include tax Guest must be 21 years of age or older to make a reservation, and be registered for the length of the stay; $ 50 cancellation fee applies for cancellations outside of 14-days before arrival; no refunds available for cancellations inside of 14-days; full balance must be paid 30-days before arrival; park admission NOT included. It is not required that park admission be purchased to stay overnight, however if a guest wishes to visit the theme park park admission must be purchased in some form, if those guests wish to visit the theme park; Park admission can be purchased in the form of day tickets, Season Passes, or Memberships; (3) night minimum stay required on weekends; (2)-night minimum stays during the week; check-in days are limited to arrivals on: Fridays, Mondays, and Wednesdays; (2-night stays on Fall Weekends); cannot be combined with any other offer, limited availability on all unit types; *Note: Due to being a seasonal employer, limited rides and attractions may only be available before June 24th or after August 21st. Some rides may have limited hours, be rotated during the day, or be closed during your stay; please see our Lodging Policies. Other restrictions may apply.